OSRS Desert Treasure Guide
Feb-18-2022 PST
Introduction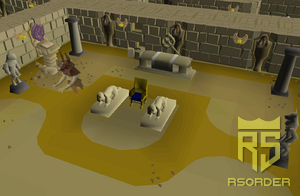 If you're an experienced player, you may have already heard about quests. Similarly, in the quest called Desert Treasure, you need to embark on a journey to hunt down a popular spell. So, RSorder have made a quick guide to walk you through what the quest has to offer for desert treasure osrs.
What is Desert Treasure?
It's one of the most popular quests in the game, which is riddled with various bosses. Each of them offers a unique battle experience to test the wits of the player. You need to take different approaches to defeat them, as some are either immune to certain spells, can be killed with ranging combat approaches, or require different methods to conquer. A good recommendation would be to beat each of the bosses with a Dwarf Multi-Cannon.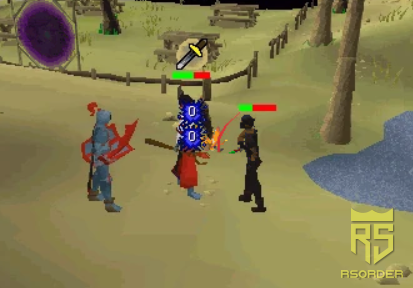 It's worth noting that if you're carrying diamonds, there's a minor chance that you could be in a conflict with a level 95 Stranger. So, make sure that you have a teleport ready. The Stranger is armed with poisonous dragon daggers, so you'll also need Anti-Poisons in case you get hit. You can avoid it entirely by banking your diamonds beforehand.
Requirements
It's a common question among players, as they might be worried about whether their stats are enough to upon this quest. If you're an experienced player, then you need not worry and head right into the desert.

A recommendation would be to have at least 70 Attack, 70 Magic, and 50 Prayer. You may be able to get away with your Attack and Magic at 60, and your Prayer at around 15, but you need to be overly cautious.
How long does it take?
It isn't the longest quest in the game, and it should take about 4 to 6 hours to complete. Most of your time is consumed in the dungeons and defeating bosses; however, if you're an experienced player, then it'll only take you a couple of hours.
Rewards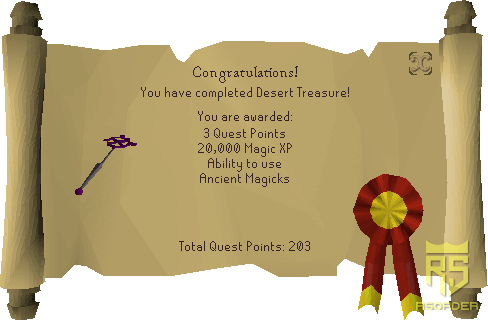 Once you complete the Desert Treasure quest, you can expect to receive 20,000 Magic XP and 3 Quest Points. You'll also gain the ability to use the Ancient Magicks, and you can switch between your standard and ancient spell books after praying at the altar found within the quest.
To help you get your Desert Treasure quest fast and smoothly, please follow our tips carefully. We are trying our best to help you enjoy your game. Thanks for your support to RSorder again and have fun! Also, you can buy OSRS Gold cheap here!